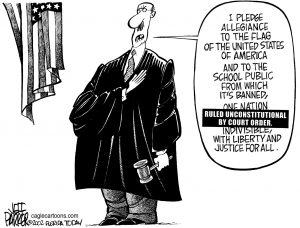 Nearly a year after a local resident initially read from the book Me and Earl and the Dying Girl at a school board meeting and the story reached it's conclusion following a lengthy meeting on October 25th, 2022. Following hours of public comments and despite containing vulgar and sexually explicit content the Elizabethtown Area school board voted 6-3 to keep the book in the middle/high school library when the appeal by Tina Wilson to remove the book was denied. Community members even cited several court decisions and policies to support removal of the book while repeatedly mentioning that retention was an implicit endorsement of the book.
Making things more interesting, two community members subsequently donated books to the school. On November 8th, 2022 during a workshop meeting board members discussed the materials which included:
Following the decision to retain explicit material the board member seemed to grasp the precariousness of the situation. Comments appeared to largely centered around an administrative analysis that was provided to the board. Michael Martin was the first to comment by indicating he found some of the materials personally offensive. Namely an assertion that is apparently made in the Identity book to the effect that being gay or transgender is morally wrong. However, Martin also conceded that as a person of integrity he would be inclined to accept the donations despite the fact that Martin is a gay man.
Following Martin, Craig Hummer and Jim Emery both seemed to agree that these books ought to be accepted, especially in light of the decision to retain Me and Earl. Emery then continued on with his comments and seemed to be attempting to process his thoughts out loud. Emery stated that it seems like a cliff on both sides and that one side was safety and the other freedom. Emery indicated that he believed books that attempted to influence need to be "opt in". Emery was referring again to a suggestion made by several board members that an "opt in" rather than an "opt out" might be more appropriate than removal of books. In what was likely a response to Emery, Caroline Lalvani stated that the books were donated under existing policy so should at least be considered under the existing policy.
Danielle Lindemuth then offered comments stating that all communities need to be protected. She indicated that since the materials would not be part of the curriculum they were acceptable as resources. Stating that the materials are thematic and need to be looked at differently. Dr. Karen Nell seemed to support this thinking by stating that while she did not wish to offer her opinion the books did not contain vulgar or sexually explicit material. However, she did indicate they all have qualities which would place them on the "flagged" list immediately.
Karen Sweigart had "a lot" of questions regarding the materials and stated there was a lot they need to look at. Specifically she asked where they would be located if accepted since Darwinian evolution is accepted by "97% of scientists." This comment seemed to be referring to the Zombie Science book which exposes lies frequently retold about Darwinism. Dr. Nell responded that the book would likely be categorized similar to a memoir though it's in a "gray area."
Following Dr. Nell's comments things got a bit more interesting once Emery offered more thoughts on the donations. Emery said there are lots of facets and opinions that " are all valid." He then added that anything that teaches a "what to think" should not be accepted. Craig Hummer then questioned Emery asking if we should accept books that teach round earth rather than flat earth. Emery then tries to explain himself by saying he thinks books should be treated like alcohol, tobacco, and firearms.
After Emery's comments Lalvani reminded the board that the discussion can be tabled until a new policy was adopted. Mrs. Lindemuth, Sweigart, and Hummer all agreed with tabling the discussion. Martin agreed yet he expressed that the constitution certainly seemed okay and Emery seconded Martin's opinion. Board president Terry Seiders did not offer any comment on the matter though there was conversation regarding the pamphlet policy which seemed to be an automatic rejection of the Free to Speak. It appears that until a decision is made on policy there is a standing moratorium on the purchase of any flagged books or the donations in question, including the bible.